Digital Radiography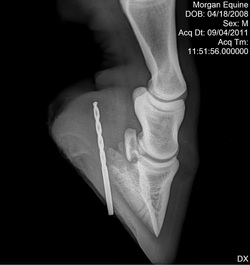 Digital radiographs, or x-rays, are state of the art technology that allows us not only to take x-rays on the farm, but to see them and analyze them immediately with no developing needed. This is an integral part of diagnosing and treating lameness, which makes us much more efficient. After all, who doesn't appreciate instant gratification?



---
Ultrasonography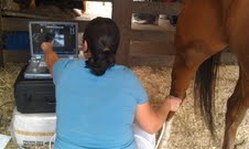 Our ultrasound is the very same model used by human doctors. If it is good enough for you, then it must be good enough for your horse. This technology can be used in a variety of applications, from fertility and breeding monitoring and pregnancy diagnosis to lameness and musculo-skeletal diagnosis and monitoring.

---
Power Dentistry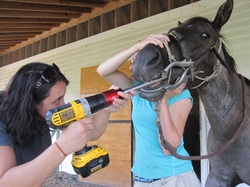 Routine dental care is as important to your horse's health as it is to yours. We have been trained extensively in power flotation, which is the most efficient and effective way to have your horse's teeth floated.

---
General Wellness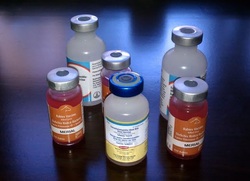 Preventative medicine is the most important type of medicine for the well-being of your horse. This includes vaccinations, Coggins testing and a minimum of once annual dentistry. Vaccines are imperative for the health of your horse. Please speak to your veterinarian about tailoring a vaccination plan to specifically suit the needs of your individual horse or herd. Coggins tests are important for monitoring the health of your horse and are required for a majority of equine events (showing, trail riding, etc). Our practice utilizes digital Coggins, which affords our clients the convenience of accessing their horse's Coggins forms online in the event that the original is misplaced. Please see the above section for more information regarding our dental care guidelines. All other medical questions or concerns can be discussed and addressed with your veterinarian, whether it be pediatric or geriatric, dermatology or orthopedics, medicine or lameness; we do it all!
---
Wellness Program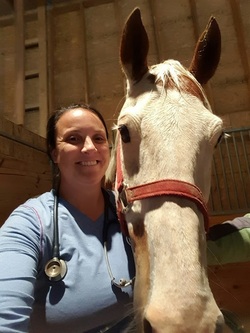 Our Wellness Program includes two plans designed to fit the needs of you and your horses: Basic and Performance.
Wellness examinations, power dentistry, essential vaccinations, and fecal/sand tests are included in each level of
care. For more information, click on the links below.
Wellness Program
Wellness Program Terms/Enrollment Application
---
---

Dover Equine Veterinary
P.O. Box 246 | Aylett, VA 23009
804.333.0333 | 804.769.2433