How To Treat A Hoof Abscess
Step 1: Epsom Salt Soak

Soak your horse's hoof in warm water and Epsom salt (enough salt to fully saturate the water, don't be stingy!) for 10-15 minutes. Be sure to fill the water deep enough to cover the entire hoof. We like to use these shallow rubber feed pans. If your horse does not stand well in the bucket, you can purchase a soaking boot or consider using a heavy strength plastic bag, ask your vet for an old fluid bag, and tape it around the fetlock. (Use caution the first time you do this, your horse may spook at the sound of the bag)


---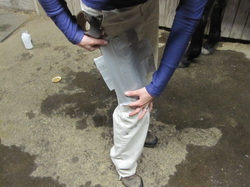 Step 2: Duct Tape Bootie

Make a duct tape bootie, by criss-crossing layers of duct tape, using about 10in strips (give or take, depending on your horse's hoof size). If your horse wears through the first bootie you make, add extra layers next time.


---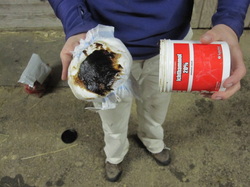 Step 3: Diaper and Ichthammol

Take a (size 1) diaper and scoop out a good amount of ichthammol, we know it looks gross… sorry. If you can't get your hands on a diaper quickly, a maxi-pad, 4x4 gauze pad or an old clean wash cloth would work. Before applying, dry the entire hoof with an old towel, then apply the ichthammol liberally to the entire sole.


---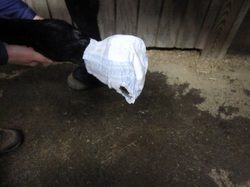 Step 4: Placing the Diaper

Apply the diaper around your horse's hoof using the nifty tabs to keep it in place (if you need help knowing how to put a diaper on, we suggest calling a mom).


---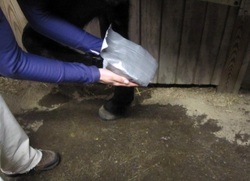 Step 5: Applying the Duct Tape

Stick your first layers of criss-crossed duct tape onto the bottom of your horse's hoof. Then fold the flaps up the side of your horse's hoof so that it sticks to the diaper. Ensure the duct tape doesn't sick directly to the coronary band.


---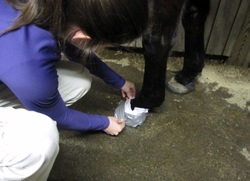 Step 6: More Duct Tape…

Add extra tape around the front and sides to secure the duct tape bootie in place. Be careful not to wrap the tape all the way around the hoof too tightly, and again be sure not to put any tape against your horse's coronary band, only adhere it to the diaper.


---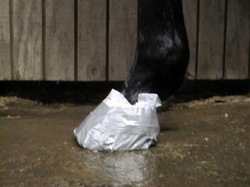 Step 7: Finished Product!!

Taa-daa! If your result looks something like this- success!


---
For a printable version of this information, please
click here.