Foaling; What To Do and When To Do It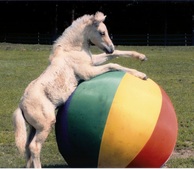 Your mare should be in good body condition coming into foaling. She should appear mildly fleshy and have regular deworming. All mares need to be removed from all fescue grass and hay 45 days before foaling. Any grass in the pasture should be suspect unless inspected by your veterinarian or county cooperative extension agent. All orchard grass pastures must be reseeded every other year to avoid fescue grass invasion. Also, your mare needs to be vaccinated 4-8 weeks before foaling to allow the mare's milk to have high antibody productions.

Your mare will need a clean, safe place to foal. Most owners prefer a stall; a 14' x14' stall is the minimum space requirement. Your mare should be bedded on thick straw, rather than shavings. Shavings attach to newborn and mother during foaling, potentially infecting both animals with bacteria. Some owners prefer a grassy paddock. This is acceptable also as long as the fencing is adequate to prevent the baby from slipping underneath. Pasture foaling is not recommended for maiden mares because rejection of the foal is not easily seen by the owner. The owner should attend all foalings.


---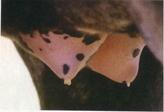 Signs of impending birth:
Filling of the udder (2-4 weeks pre-foaling)
Distension of the teats (4-6 days pre-foaling)
Waxing of the teats (1-4 days pre-foaling)
Dripping of milk (1 day pre-foaling)
Stretching of the vulva (2-6 days pre-foaling)
Softening of hip and thigh muscles (1-2 weeks pre-foaling)
Increase in milk calcium (as detected by a milk test kit: Predict-A-Foal®)


---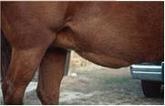 It is common to see an abdominal swelling in front of the udder extending to the bottom of the chest. This swelling resolves within days after foaling. Many mares will act colicky during the last month of pregnancy due to the baby moving into position for parturition


---
To prepare your mare for foaling, wash her udder, and vulva with Betadine scrub, rinsing thoroughly. Also clean the walls and floors of the foaling stall with soap and then a dilute bleach solution. The milk calcium test strips (Predict-A-Foal®) predict your mare's foaling date. We highly recommend their use because of their accuracy. They are very easy to use, and should be started 1-2 weeks before the mare's due date. Using the test strips reduces the number of sleepless nights by the owner.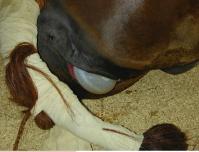 Impending Birth

First stage of labor
Your mare will become restless and anxious. She will pace the stall, lie down and get up, paw, and/or look at her belly. This stage involves contraction of the uterus and can last 1-2 hours.

Red bag delivery presents itself as a red placenta coming out of the vagina rather than a nose or the normal white placenta. When this happens the foal is cut off from its blood supply and needs to be born immediately to prevent death of the foal.


---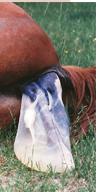 Second Stage of Labor
This stage starts with the water breaking, and obvious uterine contractions. The foal will be born within 30 min. The foal presents with the front feet first and then the nose just above the knee Many times the water will break and the mare will decide to stand up and take a 5 minute break (a nibble of hay or a sip of water). This happens commonly. This commonly upsets the owner as well. After a minute or two, the mare will lie down and commit to delivering the foal. The baby is completely expelled during this stage. Problems include: the mare takes greater than 30 minutes to deliver the foal, or the foal does not emerge from vagina in correct presentation. A veterinarian should be consulted immediately

It is preferable that your mare is allowed to have her foal unassisted. Monitor her efforts, but do not be a nuisance. Most foalings are normal and uncomplicated. Do not pull the foal unless directed by your veterinarian. Most owners can do more harm than good in assisting their mare during delivery.


---
Third Stage of Labor
This stage involves the expulsion of the placenta and should be within 1-3 hours. A retained placenta is a medical emergency involving subsequent uterine infection, colic, laminitis, delayed foal nursing, and death of the mare. A veterinarian should be consulted immediately if the placenta is not passed within 3 hours. Your veterinarian should check the placenta to ensure it was expelled intact. This is usually done at the wellness visit the next day.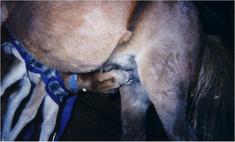 Postpartum Care

Encourage the mare and foal to rest and bond. Do not over handle the foal as this interferes with maternal foal bonding. Some mares are tolerant of handling, but be careful with maiden mares. Some mares become very over-protective and aggressive post-foaling. Allow the foal to break the cord when it struggles to stand. If it does not break (rarely), simply twist the cord with your hands and pull. Do not cut the cord. The umbilical cord needs to be treated with Nolvasan (chlorhexidine ) solution two times daily for the first 3 days of life.

The foal should attempt to stand within 30 min and should be able to stand within 1 hour. The foal should also be nursing by 2 hours, with colts tending to be slower than fillies to nurse.

Rejection of foals is most common in maiden mares. Your mare should stand and allow the baby to nurse when the foal moves to the hindquarters. The mare should not spin her hindquarters around to keep the foal at her front (many maiden mares do this and it is the mildest form of foal rejection). The owner needs to intervene if this happens: holding the mare's head, not allowing her to spin away from the foal. Other signs of rejection are:
1. the mare pinning her ears at any time
2. squealing at the foal when they are face to face or when the foal touches her shoulder
3. lifting her back leg when the foal attempts to nurse.

Squealing by the mare when the foal nurses is not a sign of rejection, but a sign of pain – udder, vaginal, or abdominal- in the mare. If any of these are seen, a veterinarian needs to be called immediately.

The mare's first milk, colostrum, provides the foal with the antibodies needed for the first 4-6 months of life. Your veterinarian should take a blood sample from the foal within the first 12-24 hours of life to ensure adequate colostrum intake and thus immunity of the foal. If inadequate colostrum is consumed, the foal may need colostrum from a colostrum bank or a plasma transfusion to provide adequate immunity.


---
The mare should receive ½ cup Metamucil or a beet pulp mash daily for 3 days. She should also receive strongid paste the day after foaling.

Many older horseman believe strongly in giving a foal an enema post foaling to help the foal pass its first feces, meconium. We do not believe this should be done on a routine basis, because indiscriminate use can traumatize the foal's rectum causing colic and gastric ulcers. A foal should receive an enema only if there is excessive straining (more than 5 minutes) to defecate. Remember, a foal has to learn how to defecate and use his muscle appropriately. Do not rush to give an enema at the first attempt. Allow the foal time to learn how to defecate. If you believe an enema is needed, please consult with your veterinarian.

Foal emergencies are: foals that do not nurse(mare has distended udder), laying down excessively, straining excessively to defecate, and colicky foals (grinding teeth, rolling up on his back).

It is always advisable to have your veterinarian perform a wellness exam on the mare and foal in the first 24 hours after foaling. At this time, the veterinarian will examine the mare for infections, lacerations of the vagina, post- infection, intact placenta, and adequacy of milk. The foal will be examined for infection of navel, joints, and pneumonia, blood will be taken for antibody testing, and nursing ability. His legs will be checked for proper growth and conformation.